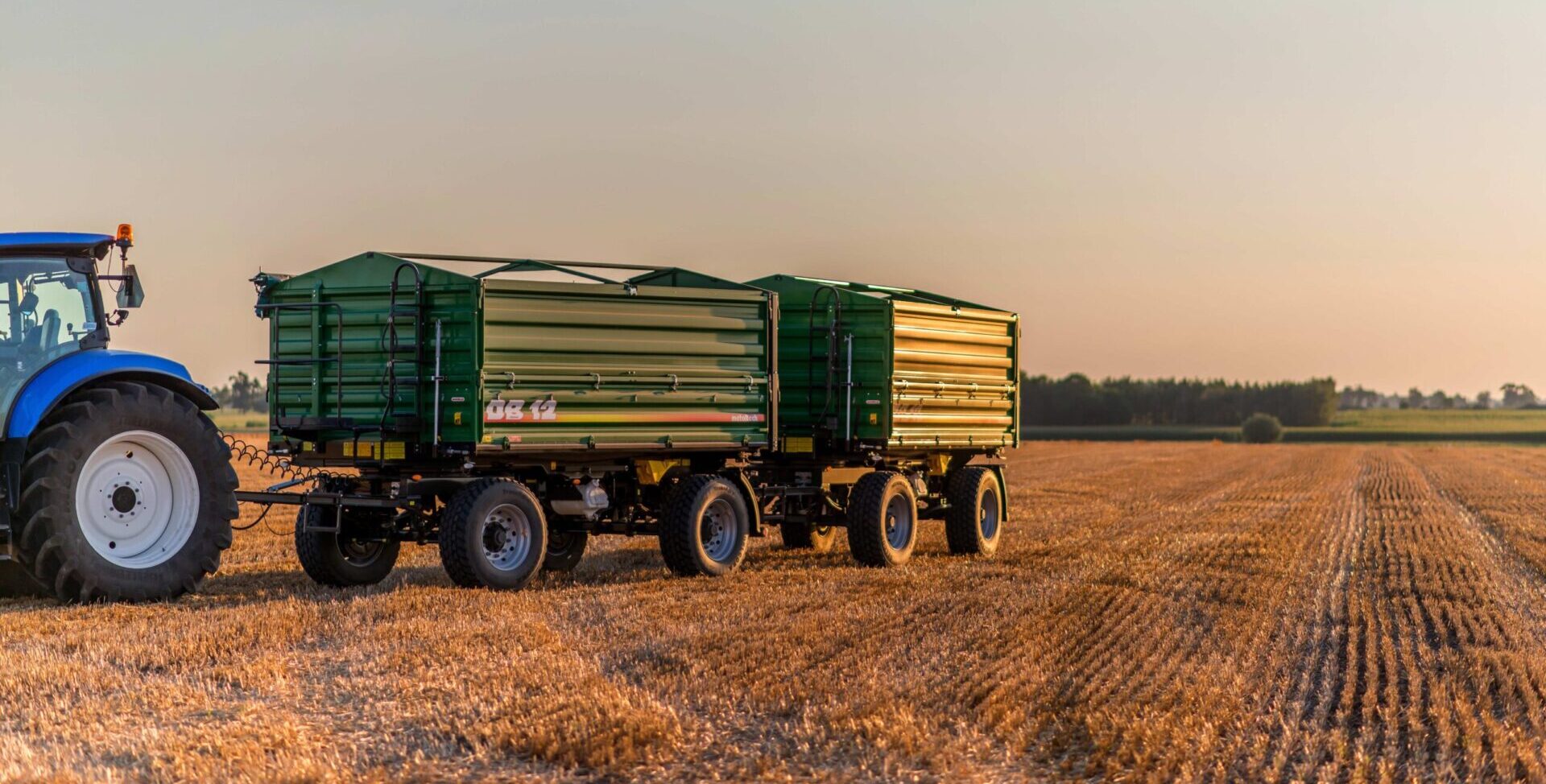 AGRICULTURAL TRANSPORT
DISTINGUISH YOURSELF FROM OTHERS
Do you want to face each challenge with ease? Learn about the unique advantages of Premium trailers. It is as you dreamt it!
>
>
PRZYCZEPY ROLNICZE TYP DB PREMIUM EN
AGRICULTURAL TRANSPORT
DB PREMIUM
DB PREMIUM range trailers are a perfect solution for transport of agricultural produce, in particular grain, loose materials and volume materials. The trailers have distinctive design and equipment.
LEARN ABOUT ADVANTAGES OF OUR MACHINES
Dane techniczne
| | DB 12 000 PREMIUM | DB 14 000 PREMIUM | DB 20 000 PREMIUM |
| --- | --- | --- | --- |
| | Konfiguruj | Konfiguruj | Konfiguruj |
| TECHNICAL CAPACITY (KG): | 12 000 | 14 000 | 20 000 |
| TECHNICAL PERMISSIBLE SPEED (KM / H): | 40 | 40 | 40 |
| UNLADEN WEIGHT (KG): | 3965 | 4640 | 7500 |
| NUMBER OF AXLES: | 2 | 2 | 3 |
| STANDARD AXLE SUSPENSION: | PARABOLIC RESOR | PARABOLIC RESOR | PARABOLIC RESOR |
| STANDARD TIRE SIZE: | 385/65 R22,5 | 385/65 R22,5 | 385/65 R22,5 |
| MAXIMUM TIRE SIZE: | 560/45 R22,5 | 560/45 R22,5 | 560/45 R22,5 |
| LOAD BOX LENGTH (MM): | 4500 | 5000 | 7570 |
| BOX HEIGHT (MM): | 600+800 | 800+600/800 | 800+600/800 |
| BOX WIDTH (MM): | 2420 | 2420 | 2420 |
| BOX CAPACITY WITHOUT / WITH OVERLAP (M3): | 15 | 17/19 | 26/29 |
| CAPACITY WITH 3rd MESH HEAD (M3): | 24 | 27/29 | 40/44 |
| TOTAL LENGTH (MM): | 7020 | 7430 | 9900 |
| TOTAL WIDTH (MM): | 2550 | 2550 | 2550 |
| LOAD PLATFORM HEIGHT WITH STANDARD TIRES (MM): | 1360 | 1390 | 1420 |
| MINIMUM POWER OF COOPERATING TRACTOR (KM): | 89 | 110 | 150 |
The choice is yours